History of Uechi-ryu Karatedo
History carved on the pedestal of Kanbun Uechi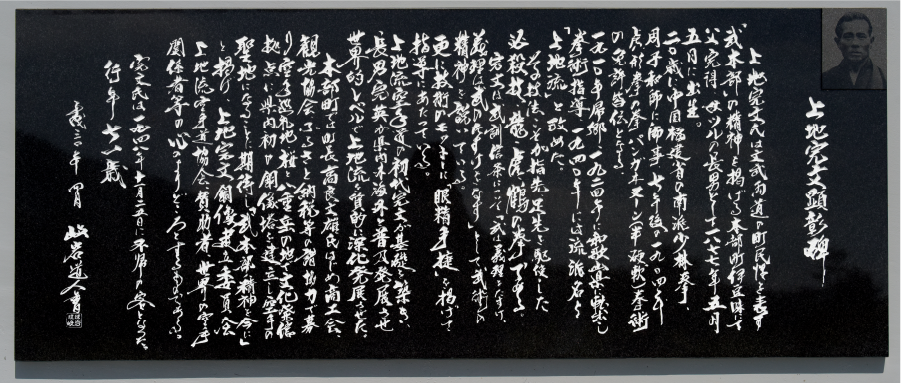 Uechi Kanbun was born the eldest son of Kantoku and Tsuru on May 5, 1877 in Izumi Motobu Town, a place known for the spirit of "Bu Motobu" . This maxim expresses the nature of its citizens famous for scholarship and martial arts.
At the age of 20, he traveled to Fujian Province of China to study the Southern Shaolin Fist style under Master Shu Shiwa. Seven years later, in 1904, he was awarded a Masters Certificate for the Tiger Fist form known as Pangainun (Hankonan or half-hard half-soft style).
He returned to Okinawa in 1910, then moved to Wakayama Prefecture in 1924 and started teaching his technique. In 1940 he renamed the system as "Uechi-Ryu" or the style of Uechi.
Through training of the fingertips and toes, Sokusen, (Toe Kick) and Ryu-Ko-Kaku (Dragon, Tiger, and Crane) techniques were developed which are unique to Uechi-Ryu karate. Technique instruction is based on the motto, "Gansei Shusho" , meaning "Piercing eyes and fast hands" .
As a principle of Bu – martial arts, Kanbun advocated that martial art spirit is based on the precept "Bu supports social duties, Duty is the support of Bu" .
Kanbun, the founder of Uechi-Ryu Karatedo built the foundation of the system, and his eldest son Kanei, developed and popularized the art in Okinawa and overseas. Uechi-Ryu was thus deepened and advanced significantly on a worldwide level.
With the cooperation of the Motobu Town Mayor Takara Fumio, the town' s Chamber of commerce, Industry and Tourism association, the hometown tax donation system, and various other support, we have constructed the first bronze statue in the prefecture on this karate pilgrimage area, land of Cherry blossom and Mount Yae. We hope this area will become a sacred place of karate and a base for culture diffusion. Holding high "Bu Motobu, a spirit for the future" , let this statue of Uechi Kanbun be the spiritual home for the Uechi-Ryu Karatedo Association, its supporters, and karate enthusiasts worldwide.
Uechi Kanbun passed away on November 25, 1948. He was 71.
Statue of Kanbun Uechi
(The Founder of Uechi-ryu Karete).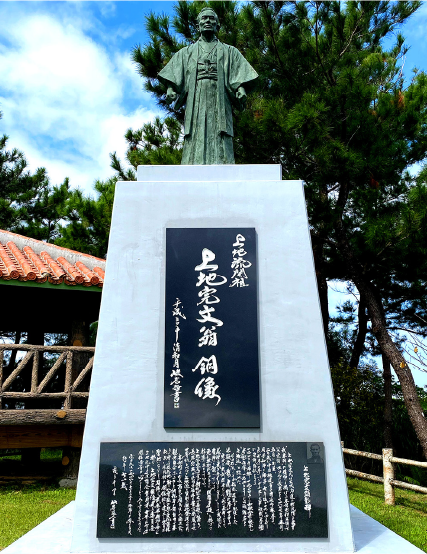 Statue of Kanbun Uechi
(The Founder of Uechi-ryu Karete).
The unveiling ceremony of the statue of Kanbun Uechi who is the founder of Uechi-ryu Karete was held at the Sakuranomori Park in Motobu-cho on 21th April 2018. It is the first statue of the Okinawa Karate Founder. His birthplace of Izumi, Motobu-cho is in front of the statue. And the island of Ie-jima where he spent in later life is located posterior of the statue. The statue is about 4.3 meters height, including the bases.
[location] Yaedake Sakuranomori Park 921 Namizato,
Motobu-cho, Kunigami-gun, Okinawa
Biography of Kanbun Uech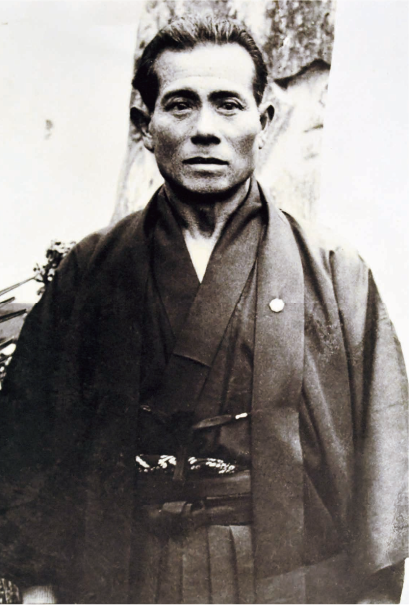 Kanbun Uechi was born on 5th May 1877(The Meiji Era), in Izumi, Motobu-cho Okinawa.
・Kanbun left Okinawa to travel to China in1897. He studied under a Chinese teacher named Shu Shiwa at Fuzhou city, Fujian.
・In 1904, Kanbun received a Master Certificate from Shu Shiwa.
・In 1906, Kanbun opened his own dojo in the Nanjing, Fujian.
・Kanbun returned to Okinawa and married with Goze Toyama in1910.
・Kanei who is second generation of Uechi-ryu Karate was born in 1911.
・Kanbun moved to Wakayama for getting work in 1924(Taisho Era).
・Kanbun began teaching Karate under the name "Pangainoon" at company housing in 1926.
・In 1932(Showa Era), Kanbun opened his first dojo which named "Panaginoon Karate" in Japan in Tebira-cho, Wakayama.
・Kanbun established Shubukan dojo in 1933.
・In 1937, Kanbun received his certificates of full proficiency from Kanbun and opened the dojo at Nishinari, Osaka.
・In 1949, Kanbun moved the dojo to Amagasaki, Hyogo and renamed from Pangainoon to Uechi-ryu Karate.
・Kanmei who is third generation of Uechi-ryu Karate was born in 1941.
・In 1942, Kanbun Uechi returned to Okinawa and established a dojo in Nago.
・Kanbun returned to Okinawa in 1946.
・Kanbun died at the age of 71 in 1948.